Development Opportunities
Are you looking for commercial, industrial, retail, or land opportunities in an RDA Project Area? Or housing development opportunities anywhere in Salt Lake City?
Look below at our current development opportunities to find RDA-owned properties and parcels up for sale or bid.
For further information on RDA-owned properties, see our Property Inventory Report.
Solicitation Process
The Redevelopment Agency of Salt Lake City (RDA) periodically releases Requests for Proposals (RFPs), Requests for Qualifications (RFQs), Invitations to Bid, and other types of solicitations, for a variety of services and development opportunities. These documents will be posted to the Utah Public Procurement Place website, where you will need to be a registered user to officially respond to an open bid. If you are interested in responding, you can check the announcements at the bottom of this page, which are posted as they become available.
For more information about a specific solicitation, please submit questions in writing or email to the corresponding RDA staff as indicated in each request or invitation. You can also pick up Requests for Proposals at our offices, located at 451 South State, Room 404, Salt Lake City, UT 84111.
Pre-Submission
Addenda and/or exhibits to the requests and invitations, if issued, will be posted to the Utah Public Procurement Place website, as well as kept on file in the office of the RDA. It is the responsibility of all parties submitting responses to REGISTER on the Utah Supplier Portal website for, or make inquiry as to, the addenda, exhibits, or updates issued, and to ascertain prior to submitting a response that all addenda and exhibits have been received. All such addenda and exhibits shall become part of the official documents and all respondents shall be bound by such addenda and exhibits, whether or not received by the respondents.
Submission
All proposals and responses must be submitted to the Redevelopment Agency of Salt Lake City by the time and date indicated. Submissions can be made in person or by special delivery to the RDA offices. Submissions can also be mailed to the RDA's PO Box but extra time should be provided in order that submissions arrive in the RDA offices by the time and date indicated.
Post-Submission
When the final ranking has been determined and the City has opened negotiations with the top-ranked offeror, this page will reflect that selection status. In compliance with City Ordinance, no further information regarding the proposals can be made public until contract negotiations have been completed and a formal contract has been awarded. Requests for bids will be opened immediately following the deadline, and the lowest bid will be announced. However, staff will have to review bid and other required information to confirm that lowest bidder has complied with all requirements before a contract will be awarded.
Current Request for Proposals
THE FUTURE OF GALLIVAN : 20-YEAR PLAZA PLAN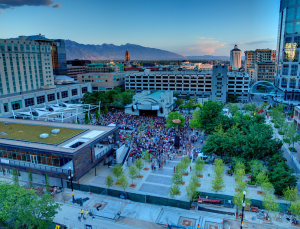 2023 is the year of the Gallivan Center! In addition to Gallivan celebrating its 30th anniversary this summer, it is embarking upon some planning for its future. 
As owner of the Gallivan Center, the RDA has released the Request for Proposals – The Future of Gallivan: 20-year Plaza Plan – to solicit professional services for the creation of a plan focused on: 1) Wayfinding enhancements; 2) Maintenance and capital projects planning; and 3) Programming.
The plan will guide how the Gallivan Center can best serve the needs of the ever-evolving community in an equitable, environmentally sustainable, and fiscally conscious manner over the next 20 years.
We invite qualified consultants and/or consultant teams with extensive expertise and experience in one or more of the following areas to submit a proposal:
Urban planning
Urban design
Public space planning
Architecture
Landscape architecture
Engineering
Financial planning
Community engagement
An informational session for prospective applicants will take place on the second floor of Gallivan Hall (239 S. Main Street) on Wednesday, February 1 at 10 a.m. A brief Q&A with City and RDA staff will be held, followed by a walking tour of the Gallivan property. This session will be recorded and posted to the RDA website shortly thereafter for those who cannot attend. 
Submissions are due by 10 a.m. on Wednesday, February 22, 2023.
Access the RFP document here at the Utah Public Procurement Place portal here. 
If you have any trouble accessing the document through the link above, please go to the homepage of Utah Public Procurement Place and type "Gallivan" or "SLCI23039" into the keyword search field. 
Housing Development Loan Program
Our Housing Development Loan Program (HDLP) centralizes the loan application, underwriting, and approval process across all affordable housing funding sources, providing a one-stop-shop for community partners and developers. The HDLP provides low-cost financial assistance to incentivize the development and preservation of affordable housing within Salt Lake City municipal boundaries. This program is intended to streamline the application and approval process and better target resources to needs within the community.
Annual Competitive Funds NOFA
NOTICE OF FUNDING AVAILABILITY (NOFA):
2022 ANNUAL AFFORDABLE HOUSING – $6MM

*On November 1st we reopened this NOFA for two additional weeks to allow for some clarification on the thresholds of out Sustainable Development Policy.
We have released $6 million in funds to provide low-cost financial assistance for the development and/or preservation of affordable housing in Salt Lake City. The 2022 guidelines reflect the FY 2023 housing priorities set forth by the RDA Board of Directors, most notably family-sized units and deeply affordable units.
Guidelines + Procedures – updated
Application – updated
*Our Sustainable Development Policy summary referenced in the Guidelines + Procedures document can be quickly accessed here.
On September 16, RDA staff hosted a virtual informational meeting to provide an overview of the application, requirements, and selection process. Watch below!

The extended deadline for submitting applications is November 14, 2022.
– – – – – – – – – – – – – – – – – – – – – – – – – – – – –
Emergency Gap Funds NOFA
NOTICE OF FUNDING AVAILABILITY (NOFA):
EMERGENCY GAP FUNDS FOR AFFORDABLE HOUSING PROJECTS

We have released $3 million in emergency gap funding to help affordable housing developers cover steadily increasing building costs.
Eligible projects will have at least 20% of total residential units rent-restricted to households earning 60% AMI or below. If awarded emergency gap financing, developers must close on the loan with the RDA within 90 days. 
There is no deadline on these funds; They are available until expended. We invite interested developers to check out the Guideline + Procedures document below for full details:
High Opportunity Funds NOFA
NOTICE OF FUNDING AVAILABILITY (NOFA):
AFFORDABLE HOUSING PROJECTS IN HIGH OPPORTUNITY AREAS
$2.7 million in funds designated for the development of affordable housing in high opportunity areas of Salt Lake City remain open. Please see detailed submission guidelines and application below:
Status of Recent Requests and Invitations
The RDA will list the results of recent Requests and Invitations here as they become available.
TECHNICAL ANALYSIS, COMMUNITY ENGAGEMENT, AND DESIGN CONSULTANT SERVICES
RFP closed on 11/24/21
Selection:
HOUSING DEVELOPMENT LOAN PROGRAM $8MM NOTICE OF FUNDING AVAILABILITY
RFP closed on 10/29/21
Selection:
144 S. 500 EAST //

110 affordable units // 

$775,000 loan

SILOS ON 5TH //

106 affordable units //

$2.3MM loan

SCHMIDT APARTMENTS //

159 affordable units //

$1.1MM loan

THE NEST // 

220 affordable units //

$1.1MM loan
DEVELOPMENT OF WEST MONTROSE PROPERTY
RFP closed on 06/19/20
RFP cancelled on 10/09/20: OFFICIAL CANCELLATION NOTICE
CONSULTANT SERVICES FOR JAPANTOWN CULTURAL DISTRICT DESIGN STRATEGY
RFP closed on 10/07/19
Selection: GSBS Architects
ON-CALL ARCHITECTURE + DESIGN SERVICES
RFP closed on 02/20/19
Selections: GSBS Architects, IO Design Collaborative, Loci, Sparano+Mooney Architecture, Urban Design Associates, and ZGF Architects
ON-CALL DEVELOPMENT CONSULTING SERVICES
RFP closed on 01/16/19
Selections: Lewis Young Robertson & Burningham, National Development Council, and Zions Public Finance Inc.
ON-CALL GRAPHIC DESIGN/MARKETING SERVICES
RFP closed on 10/18/18
Selections: BWP Communications, Faktory, and Niftic