To work efficiently and strategically, the RDA specifies certain areas in which to focus efforts by prioritizing projects and programs. Some of these "project areas" currently collect tax increment, while others are no longer collecting, but lingering redevelopment projects are still taking place. The RDA is also authorized to undertake affordable housing projects anywhere in the City. (More information on how the RDA funds such projects is available on our Affordable Housing page.)
Below is information on active full- and limited-use project areas and current redevelopment projects happening therein, as well as a list of Citywide Housing projects in which the RDA is involved.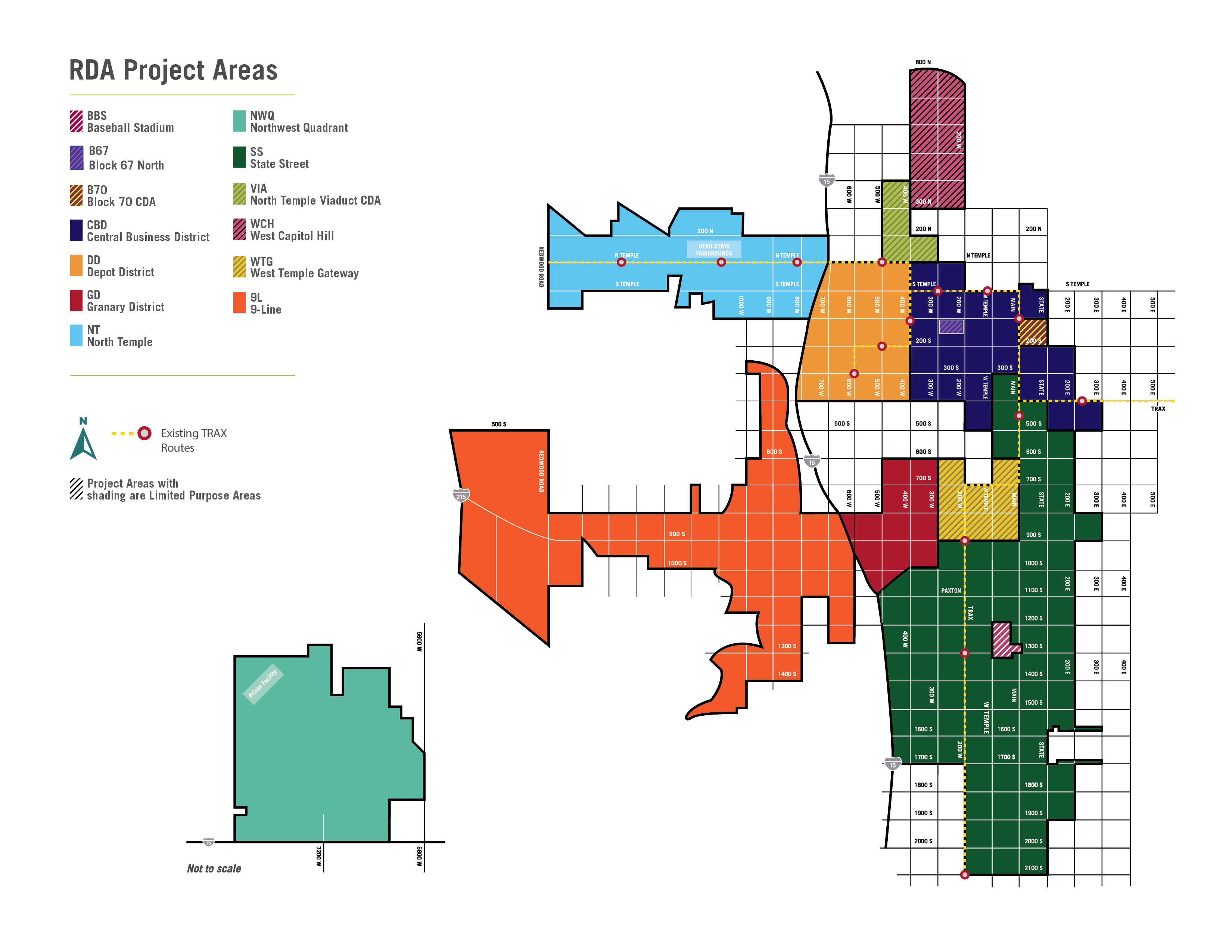 Central Business District
The Central Business District Project Area (CBD) includes much of downtown Salt Lake City, the commercial heart of not only the city, but the State of Utah. The guiding plans for the CBD call for strengthening the City's tax base through economic development and growth. These efforts should provide for new commercial and housing development, as well as rehabilitation of existing downtown buildings. The CBD Project Area Plan also recommends installation of public improvements, including transportation enhancements and cultural facilities. Within the area's 266 acres, which are bounded by North Temple and 500 South, and by 400 West and 200 East, the RDA generates tax increment from a selected 100 acres. The remaining 166 non-tax increment generating acres are still eligible for RDA programs and funding.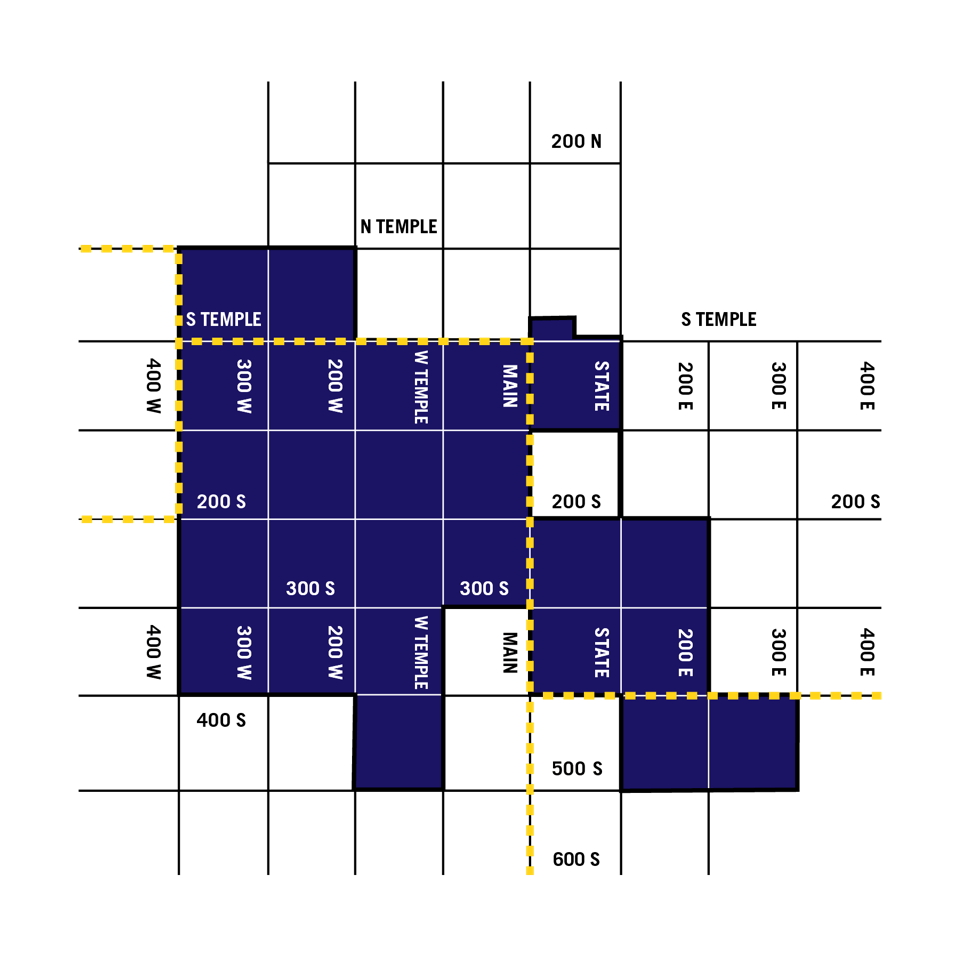 Depot District
The Depot District Redevelopment Project Area (DD) is located just west of Downtown, covering the area from North Temple to 400 South Street and 400 West Street to Interstate 15. Historically, the area has been part of the City's industrial and railroad corridor. With the reconstruction of I-15 off-ramps and the consolidation of rail lines along 700 West Street, the improved accessibility of the area has made investment more desirable.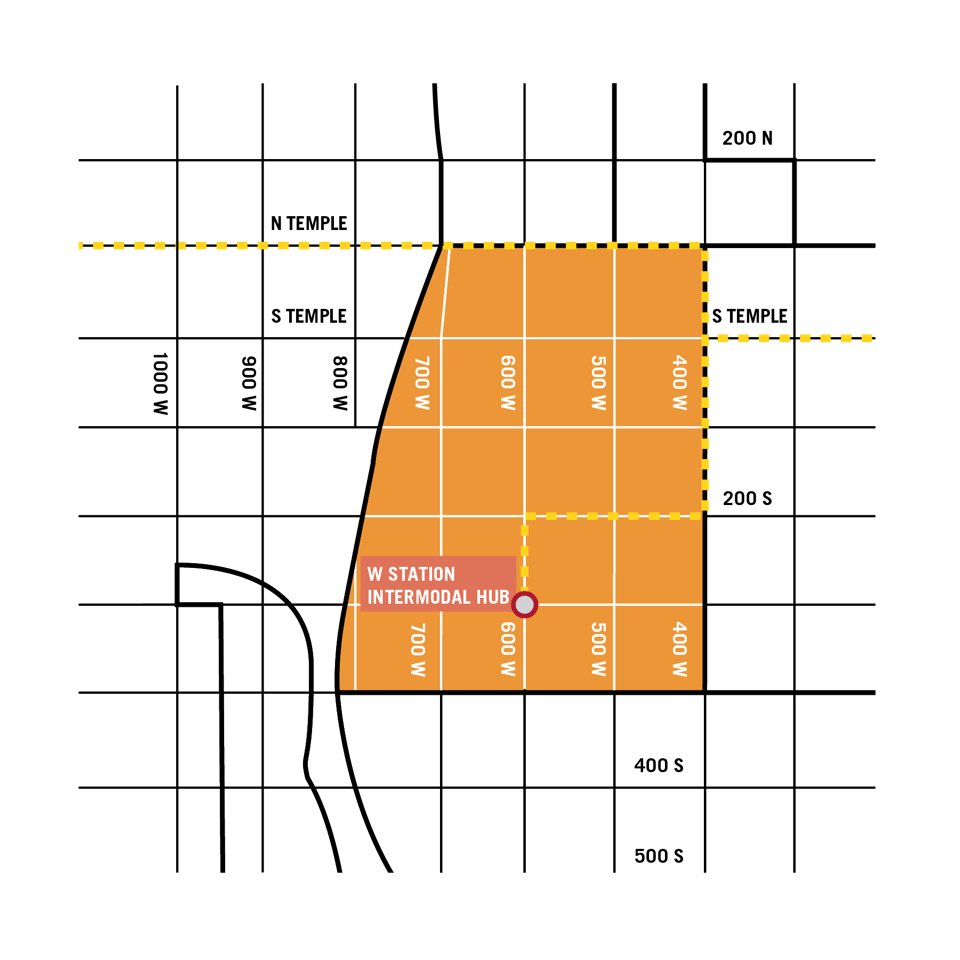 Granary District
The Granary District Project Area (GD) was historically utilized as an industrial and railroad corridor serving Salt Lake City. More recently, additional housing and service-oriented commercial developments have been added to the project area's mix of land uses. The redevelopment plan aims to create mixed-use neighborhoods that support commercial businesses and services by improving public infrastructure, addressing deterioration, preserving historic structures, financially supporting adaptive reuse development, and creating open space. Granary District is the only project area to have a financial program all its own, The Granary District Adaptive Reuse Loan Program. This unique forgivable loan program has helped bring new local businesses to the Granary neighborhood through providing financial assistance to renovate structurally sound industrial buildings to serve more modern and active uses.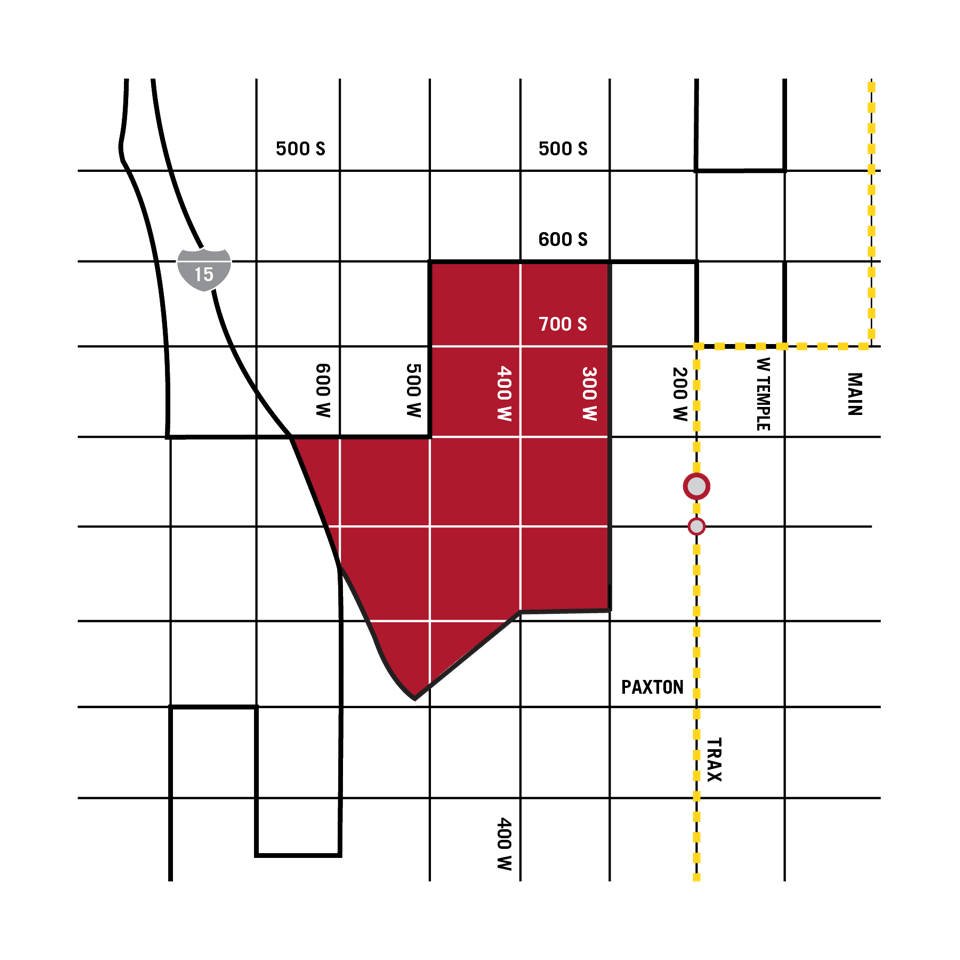 NORTH TEMPLE
The North Temple Project Area (NT) is a major entryway to Salt Lake City. Served by the TRAX airport light rail line, the North Temple Corridor connects Downtown to the Salt Lake City International Airport, making the area an opportune site for new transit-oriented development. The RDA is working to attract catalytic and infill development to the area by promoting its loan and tax increment reimbursement programs. The area's form-based zoning and significant street improvements are transforming it into a vibrant, walkable, transit-oriented corridor. The RDA's recent purchase of an unsafe and dilapidated motel property and its preparation of the site for mixed-use development is also contributing to positive change in the neighborhood.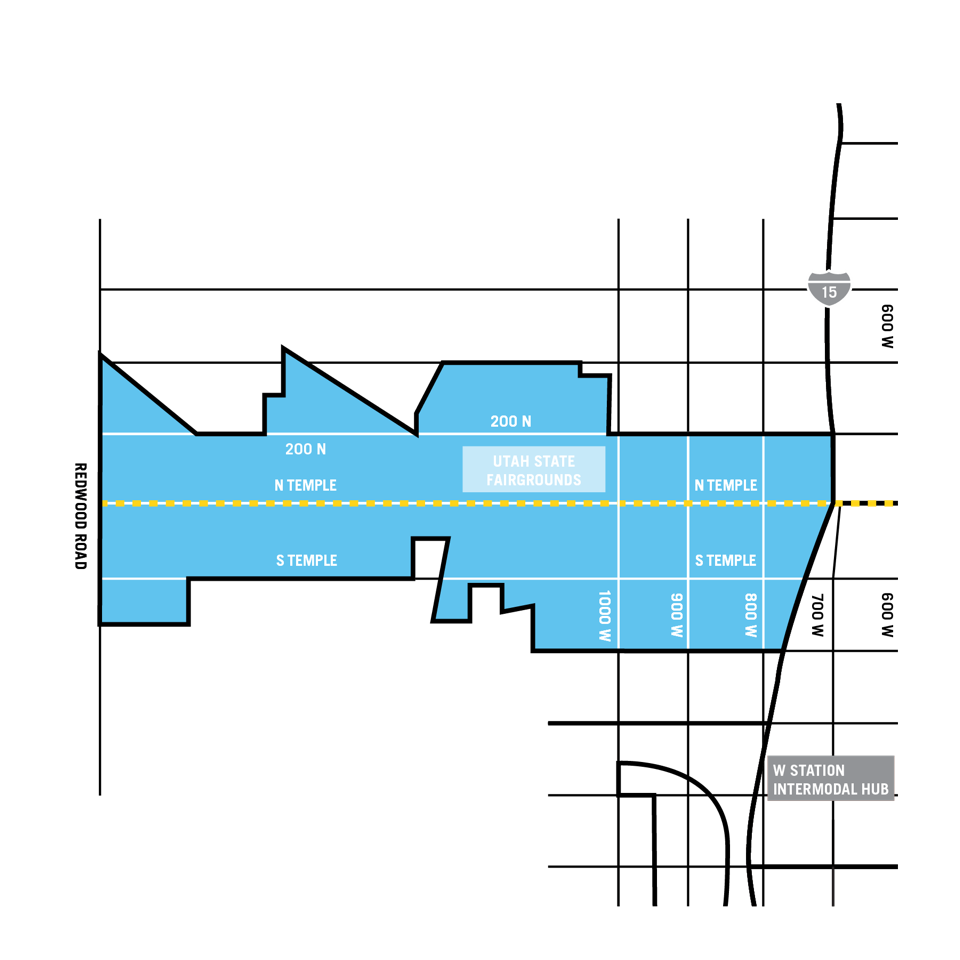 STATE STREET
Covering a large expanse of Salt Lake City, the State Street Project Area is bounded by: 2100 South and 300 South on the south and north; Interstate-15, 200 West, and West Temple on the west; and 200 East on the east. It is comprised of a range of districts and neighborhoods with differing land uses, urban design characteristics, and transportation features. A key component of the project area is State Street, once the primary north/south highway connecting Salt Lake City with adjacent cities prior to the construction of Interstate-80 and Interstate-15. This automobile-focused corridor continues to be a critical gateway to Salt Lake City. There is opportunity to expand the street's uses by including more pedestrian-friendly and livable features through infrastructure enhancement and creation. There is also opportunity for new development, the renovation and rehabilitation of existing buildings, and the creation of safe, welcoming public spaces. The State Street Project Area Community Reinvestment Area Plan was adopted by the Salt Lake City Council and RDA Board of Directors in fall 2018. Salt Lake City, Salt Lake City School District, and Salt Lake County have approved their participation.
Interlocal Agreements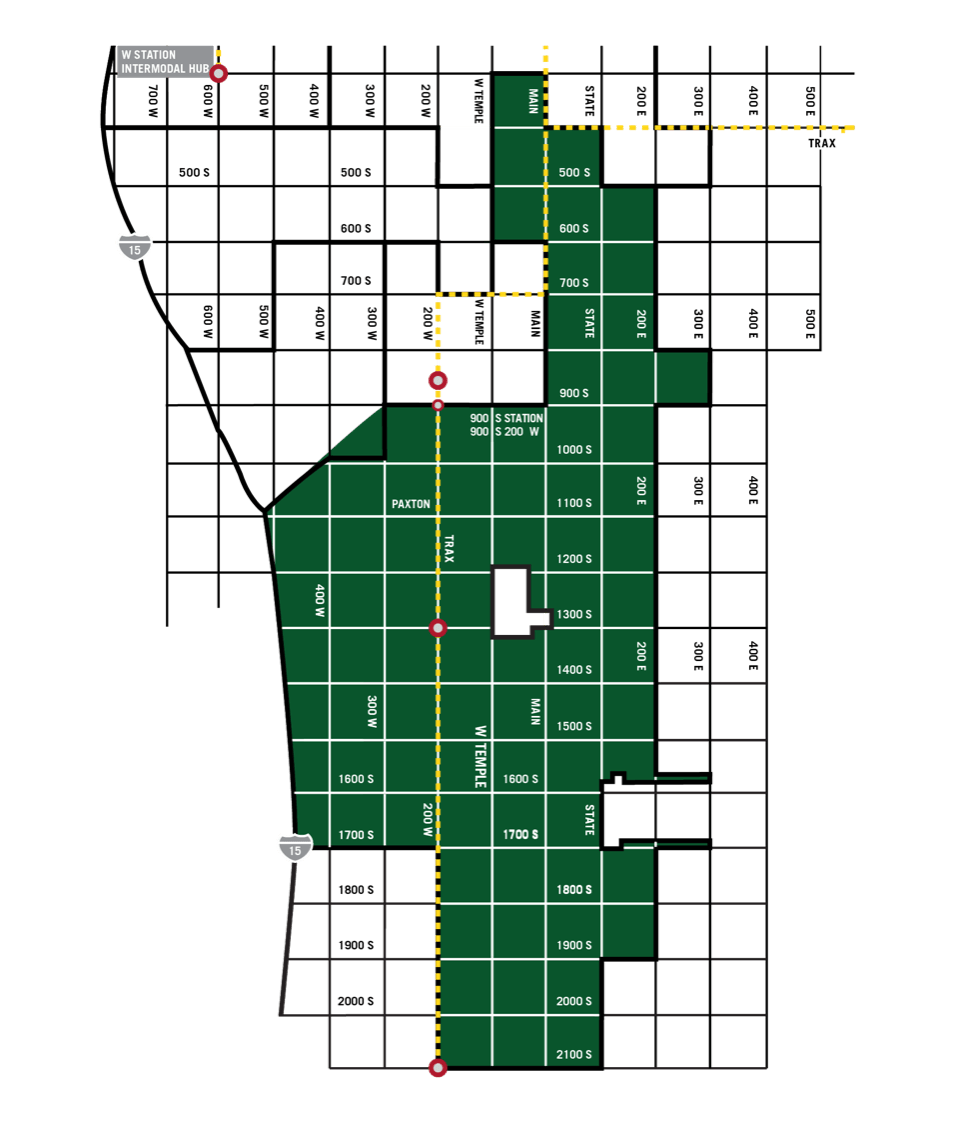 WEST CAPITOL HILL
Located between 300 and 800 North, and between 200 and 400 West, the West Capitol Hill Project Area (WCH) includes portions of Salt Lake City's historic Marmalade neighborhood, and its many pockets of charming residential and commercial structures. The redevelopment plan for WCH seeks to stabilize the residential neighborhoods, while strengthening the commercial business corridor along 300 West.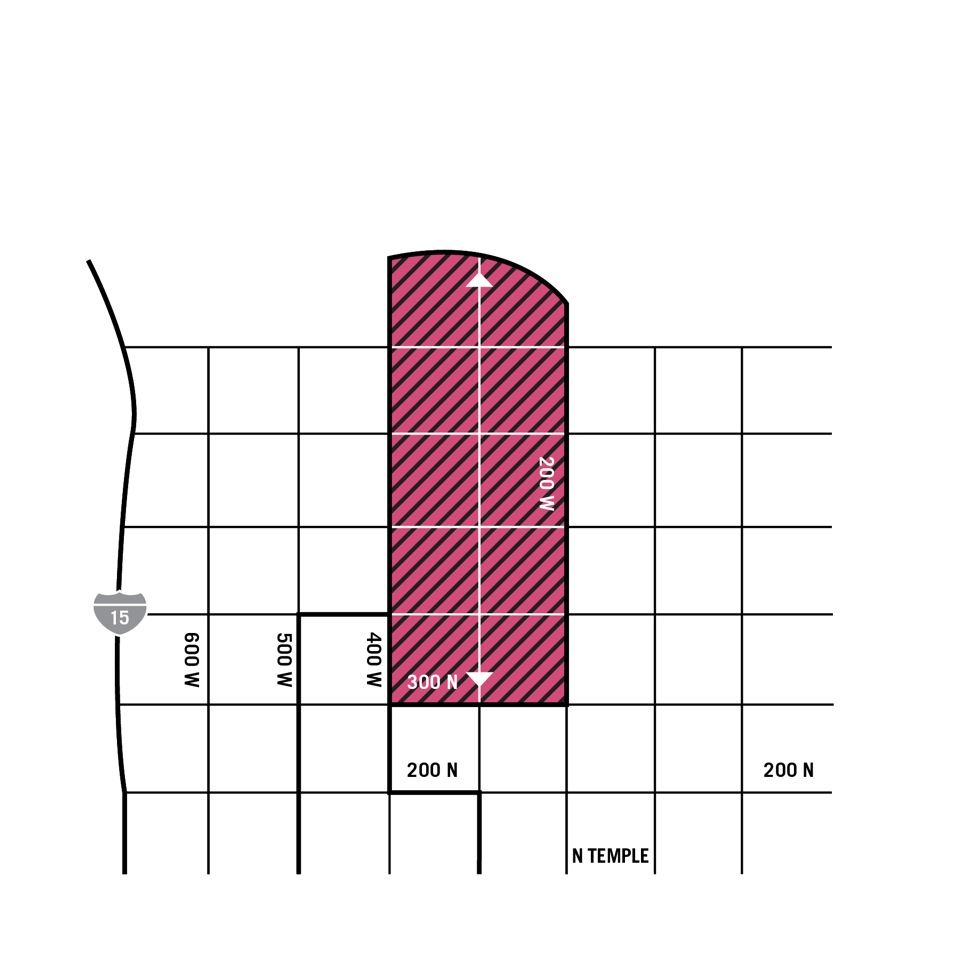 WEST TEMPLE GATEWAY
Located on the southern periphery of Downtown Salt Lake City, the West Temple Gateway Project Area is a gateway to the City's business district by way of an attractive, urban residential environment. The area's rising neighborhood business district on 900 South, aptly branded Central Ninth, is surrounded by an eclectic mix of multi-family developments, single-family homes, and a growing number of small-scale commercial and office buildings. The centrally-located 900 South TRAX Station, which was built with RDA assistance in 2005, provides area residents and businesses with excellent transit connectivity to other commercial and residential nodes located throughout the Salt Lake Valley. This project area stopped receiving tax increment at the end of 2018.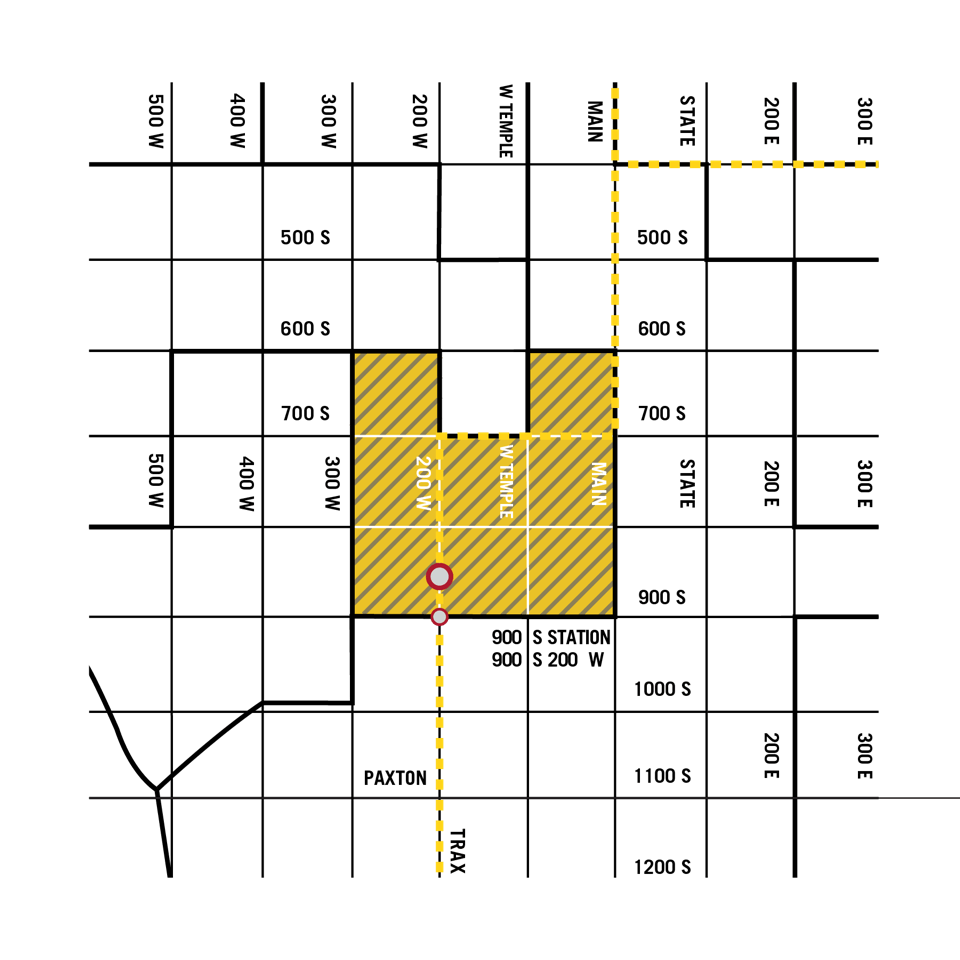 9 LINE
The 9 Line Community Reinvestment Area is located less than two miles from Downtown Salt Lake City, and spans the communities of Poplar Grove to the north and Glendale to the south. The area is characterized by single-family neighborhoods, industrial uses, and small- to mid-scale commercial centers. It also has several parks and two trail corridors. The RDA will work to leverage the neighborhood's existing assets while encouraging commercial revitalization, housing stability, economic development, and enhancement of the public realm.
Interlocal Agreements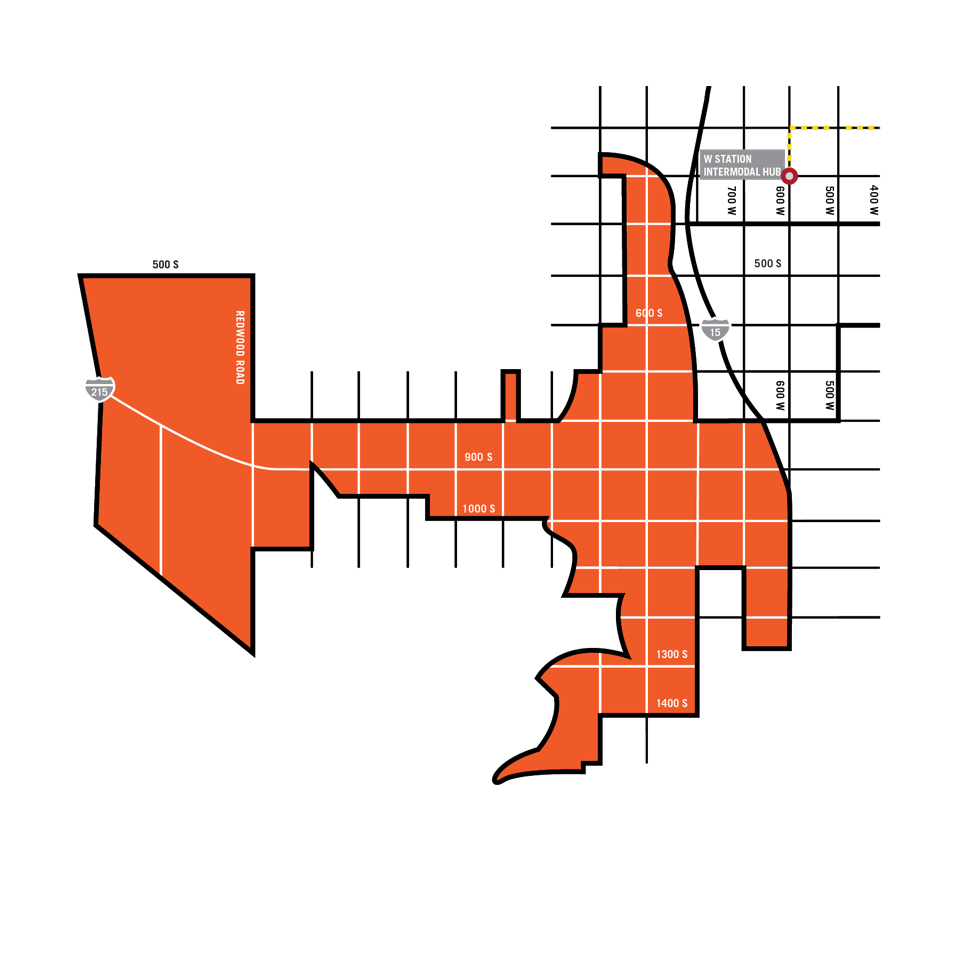 CITYWIDE HOUSING
Facilitating housing development citywide is another way the the RDA works to improve livability within the City. This is done through:
Assembling land and reselling it to housing developers at pricing level determined by housing type, price, and density;
Providing assistance to developers for the adaptive reuse of existing buildings into housing;
Including affordability unit requirements in RDA-assisted housing developments;
Providing low-interest site acquisition loans to non-profit housing developers;
Expanding the City's housing stock at various affordability levels and sizes;
Contributing to the creation of single-room-occupancy (SRO) units.
The RDA typically allocates a minimum 10% to 20% of tax increment from each project area fund to affordable housing, per 17C requirements. For project areas without a restricted budget or a housing requirement, 10% of non-obligated funds have traditionally been allocated. Depending on needs of the community and direction from elected officials, the RDA may fund additional budgets for affordable housing.
Click here for more details on the RDA's longstanding commitment to affordable housing.